FOOD & WINE

WINE & SPIRITS
A note from our Beverage Curator
At Castle Hill, we approach our drink menus with the same effort and thoughtfulness that our chefs use to craft their menus; each selection is tailored exclusively to our food for a seamless sensory experience. With every menu change, which can happen as often as every few weeks, we take the time to pair each dish with a different wine by the glass. I meet with Chef Karsten and his team, and we sit down with his dishes and 100 opened bottles of wine. We taste everything to carefully select the best pours to pair.
But we don't limit ourselves to wine. We explore different beers and spirits, which have led to beer and cheese appetizers, sake dinners, and cocktail pairings.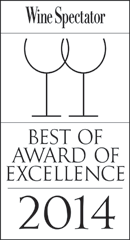 The most exciting part about Castle Hill's beverage program is the opportunity for discovery. Rather than write a list dominated by big labels, we select pairings that might include obscure grapes or small batches from local producers that guests otherwise could have been hesitant to try. If they trust in us, then we can guarantee a unique experience not to be had elsewhere in the world.
Cheers,
Shawn Westhoven
Beverage Curator
Castle Hill Connoisseur Series
Presenting for a limited time and availability, the first of the Castle Hill Connoisseur Series. Here we will present some of the best the world has to offer, in the warmth & charm of the Castle Hill Mansion Bar. $68 Per Person.
Current wine selections: "2001 Grange vs. 2001 Solaia"
Penfolds "Grange" Shiraz 2001 (3oz)
With their heritage dating back to 1884, the Penfold's name is a legacy of Australian winemaking. "Grange" has been in production as their premier Shiraz since 1951, winning one award after another each and every year since. 2001 was rated 93pts by Wine Spectator, and is in it's prime to enjoy from now through the next ten years.
Antinori "Solaia" Supertuscan 2001 (3oz)
The Antinori name had a bit of a headstart against Penfolds, with evidence of winemaking in Italy since 1180! They are the pioneers of the term "Supertuscan," with the "Solaia" blend as their crown jewel. This vintage features 75% Cabernet, 20% Sangiovese, and 5% Cabernet Franc – and also received 93pts by wine spectator.